What is it
Soundscape Generator uses collections of sounds that create an ambient scene. Soundscapes can be used for many purposes, including relaxation, meditation, yoga, theatrical performances, events, installations, soundtracks, and commercial spaces. Unlimited possibilities! An ideal tool for for bird lovers, yoga teachers, massage therapists, meditation practitioners.
How does it work
A variety of combinations of sounds & samples can create infinitely interesting and variable soundscapes for any theme or purpose. Soundscape ambient environments can be randomized and continuously generated to play on and on indefinitely without repetitious looping. You can loop certain sounds or mute them, set panning and volume as well as frequency. Soundscape Generator has an intuitive interface and displays tooltips at the bottom any time you mouse over a particular element. Soundscapes can include up to eight different channels, and adding audio files to each channel is as simple as clicking a button and selecting the appropriate file from your computer. Each channel can contain multiple files and can be adjusted for volume, panning, and potential frequency.
Many people use this program as an ambiance generator, from D&D Dungeon Masters too large museum exhibits. Bird lovers, for example, can select a few bird noises, some light rain sound, and the resulting ever-changing soundscape will surprise you. You can adjust all of the settings in realtime to fine tune your creations. Fee audio samples for use in your projects are available from many resources online. The magic of soundscape generator is that the results are dynamic and with only a little tweaking can provide hours and hours of ever evolving random sound for entertainment, concentration or relaxation. Some of the known benefits of ambient noise environments are sleep aid or enhancement, enhanced privacy, calming children, soothing migraines, increased focus or concentration, and stress relief. People spend hundreds of dollars on ambient sound machines of varying qualities to achieve what this program can do easily with your own computer and some speakers for free. The creativity of composing your own randomized ambient soundscape is very satisfying and you may want to record and share your genius with others.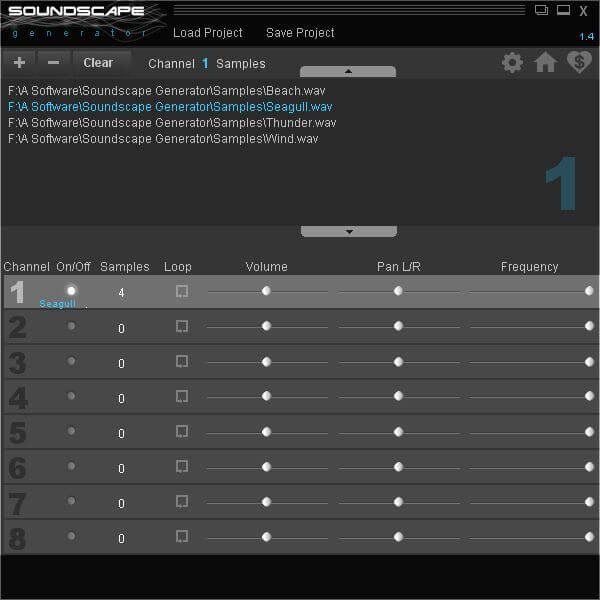 Sample Audio Recording
Audio was recorded from Soundscape Generator using our free audio recording tool Mp3myMp3 Free Sound Recorder
Real Time
You can adjust all settings in realtime to fine tune your compositions.
Recording
Use our MP3myMP3 Free Sound Recorder to record your best compositions!
Installer / Uninstaller
Simple install/uninstaller included. This Program is completely spyware and adware free and is distributed as freeware.
Portable
Soundscape Generator is also a portable EXE, this means you can run the application without installing it! ie. It can be run from any USB stick!
OS Operating System
Windows
MP3MyMP3
We have also created recording software that works well with Soundscape Generator! You can use it to record your randomly generated sound environments.
Record your creations using our Free Mp3MyMp3 Recording Tool!
Try our Mp3MyMp3 Sound Recorder, an easy to use program that lets you record the sound being processed by your sound card and save your recording directly to MP3 or WAV format. It easily records from any source, a microphone, streaming audio from the internet, CD, turntable, cassette, phone or Skype calls, multiplayer gaming action and more. If you can hear it, you can record it! - See more at: Mp3myMp3 Free Sound Recorder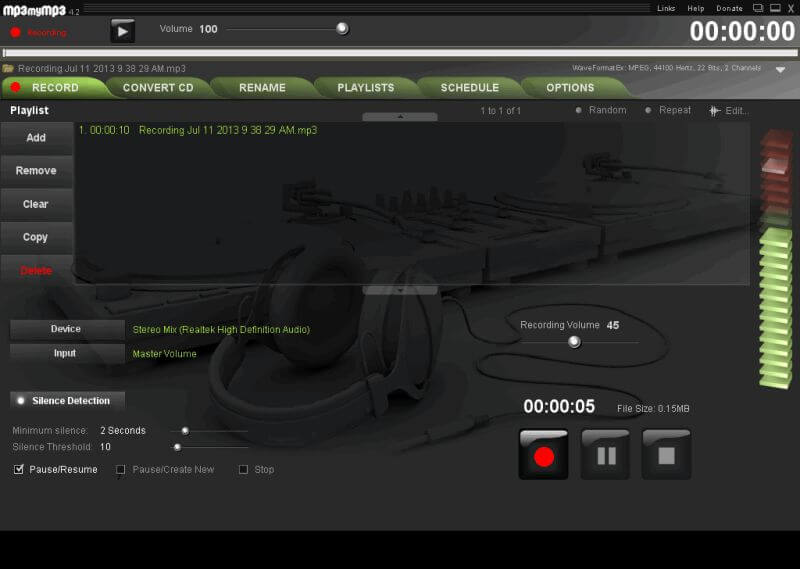 Consider supporting Soundscape Generator freeware.
"Freeware can only be developed, hosted and distributed with the support of its users. Consider supporting future development by donating through paypal or cryptocurrency."

BTC: 19AijC7SYoTf45ptnHhjMha9QZWDYsGY5K
ETH: 0x70c8e11c2a6e2a81776D6b044dEA3F2CF9d7eE61
Thank You for your support
For more information on other free tools we create visit www.digitalliquid.com